Competition/FW YM Worlds 14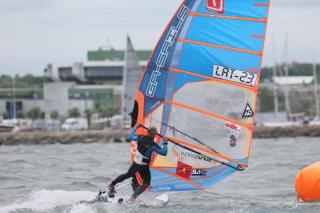 Champions Crowned in Gallipoli
Posted On: 06/07/2014 08:14:13
At the end of five days of a great championship with 15 competition races, Janis Preiss (LAT-23) is declared the 2014 Formula Windsurfing Masters World Champion and also the 2014 Gallipoli Formula European Cup Champion. Karl-Erik Saarm (EST-228) is 2014 Formula Windsurfing Youth World Champion.
In third place overall in the Masters fleet, Marco Begalli (ITA-415) is 2014 Formula Windsurfing Grandmasters Champion and Lars van Someren (NED-800)is 2014 Formula Windsurfing Junior Champion with a very creditable fourth place overall in the youth fleet.
On the final championship day, the Race Committee took up their customary position on the water, AP flying while they waited for the wind to settle after it changed direction from NE to SE. On the beach Janis Preiss and Miguel Martinho prepared themselves for the final battle ahead with just the one point separating them, both eager to claim the title.
This final championship day provided quite different conditions - some took it in their stride, particularly those more experienced in the Masters fleet, others relished the stronger winds whilst others fell by the wayside.
Janis Preiss was on fire, taking three of the four bullets, whilst for Miguel Martinho, two of his races today ended up being two of his three series discards. Thus they ended the day, and the championship, with Janis 5 points clear ahead. First Grandmaster Marco Begalli clung on to his third place on the podium by a mere two points as Latvian Maris Birzulis rounded off a good day, taking the last bullet of the championship.
In the Youth Fleet, it wasn't Karl-Erik Saarm's best day either. He started off well with a win but then was OCS in the next race. However, he finished the championship top of the leaderboard with a healthy five point lead over Brazilian Leonardo Venturini who took two bullets on this final day. Jan Orsatti (SUI-27) claimed the third podium spot.
First Junior Lars Van Someren moved up to fourth place overall, faring better than Artur Kaikull who had entered the final day with equal points but ended up discarding three of his final four races. He finished on equal points with fellow Estonian Tristen Erik Kivi who enjoyed his best day of the championship.
Conditions have been tricky during the week, shifting winds making it "interesting" for both the on-water crew and competitors alike. Nevertheless, thanks to the Race Committee, officials and jury, 15 races were provided for a full series.
In addition to the racing, the Sail Section of the Istituto Nautico "A. Vespucci" in Gallipoli, together with the sponsors and all their helpers and supporters provided a well organised event and an excellent social programme at a great venue. Many thanks to all involved.
---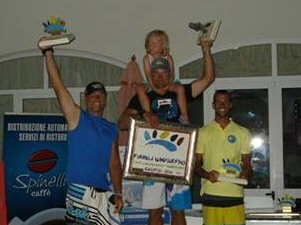 Janis Preiss, becomes Master's formula champion. (and gives us a short report.
For me this was good event, I felt comfortable with my speed and angle comparing to other sailors. We had some close fight with Miguel( POR 5) in some light wind races, because I was experimenting too mach with my sail and fin settings and in two races had bad luck with plastic bag in a water. In super light wind you lose a lot while get it off.
Overall it was 5 days of great racing, warm water and weather and we completed 15 races. My GA sails and board worked really well in those conditions.
---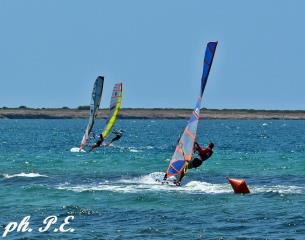 Two Races, Third Discard and Relief for Some in Gallipoli
Posted On: 04/07/2014 21:10:49
Two races today, the penultimate day of the Formula Windsurfing Youth and Masters World Championships in Gallipoli. Competition started late as the wind was very gusty earlier in the day - and very variable in direction - big shifts making it difficult to set a course.
Today's races, making 11 in total for the series, meant the third and last discard kicked in, much to the relief of some sailors who suffered in the very light wind races earlier in the week.
It was same top 5 finishers in both Masters' races - in the same finishing order - which was also mirrored in the podium places in the overall rankings after 11. Janis Preiss (Latvia) took back the lead from overnight leader Miguel Martinho (Portugal) whilst Marco Begali (Italy) consolidated his third position overall - and is the leading GrandMaster.
Not such a good start for the clear leader in the Youth fleet in race 10 - Karl-Erik Saarm posted his worst finishing place in the series, coming in 4th. Consistent placings for Leonardo Venturini (Brasil) and Jan Orsatti (Switzerland) kept them in 2nd and 3rd respectively in the overall rankings.
Our leading Junior (ie under 17) Lars van Someren (Netherlands) posted another great finish, 3rd in race 10. In August Lars will be representing NED in the Youth Olympics in Nanjing, China.
Local sailor, Luciano Treggiari, is first Veteran, and has moved up to 12th overall on the leaderboard.
Racing concludes tomorrow, 5th July. Will it be Preiss or Martinho who takes home the Masters title?
Event Website: surfingitalygallipoli.com
phot Emilio Passeri
---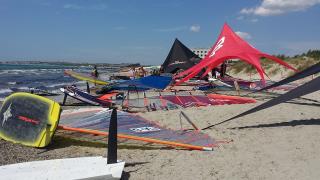 Four Championship Races on Day 3 in Gallipoli
Posted On: 04/07/2014 07:06:50
17 year-old Estonian Karl-Erik Saarm has every intention of claiming the youth title, top of the leaderboard with a perfect score after 9 races, two discards. Brazilian Leonardo Venturini has picked up the two bullets that slipped from Karl-Erik's grasp but is now seven points behind. Ten points behind, currently in third place on the podium, is Jan Orsatt from Switzerland. Can he hold on to that position?
It is not so clear-cut in the Masters Fleet as Miguel Martinho from Portugal nudges Latvian Preiss into second position on the leaderboard, clear by just one point. These two are having a good battle for the masters title. Italian Grandmaster Marco Begalli has stepped on to the podium in third place, now a good ten points clear of his nearest rival.
Championship Race 5 was abandoned by the Race Committee on Wednesday afternoon but it has now been reinstated by the Jury who decided it was indeed a valid race.
The local forecast for Friday 4 July suggests 9-16 knots from the NNW and rough seas which should give good racing conditions. It looks a little less for the afternoon as it rotates to WNW. All to play for as competitors jostle for those podium positions.
---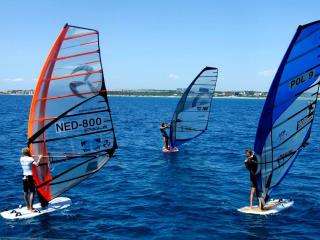 Gallipoli Day Two - Will It or Won't It?
Posted On: 03/07/2014 09:52:30
With a forecast for variable winds, a familiar windward/leeward course was laid with the intention of running 2 "back to back" races followed by a break ashore then 2 further races "back to back". Perhaps this was a little optimistic.
Shortly before noon, wind readings showed 8-10 knots, AP was lowered and competitors busied themselves to get to the start line as the breeze gently increased . . . but then the wind shifted direction, dropped to 5 knots, sailors were sent back to the beach and AP was raised once again.
A couple of long hours later, the wind direction settled, averaging 9 maybe 10 knots, and sailors were once again called to the start line. First the masters were away with a good clean start, followed by the youths, also with a clear start. Championship race 4 was completed just as the wind dropped and all were sent ashore.
Miguel Martinho (POR-5) was the first master over the finish line, beating Latvian Janis Preiss into second place, and Vassilis Solidakis (GRE-19) crossed the line in third place.
AP came down an hour later and sailors took to the water, only to find the wind dropping yet again and the only wake being produced by the support boats - very frustrating for competitors and race crew alike. But it wasn't long until there was enough breeze, the youths started race five and then the masters were also away. Although the race was completed it was abandoned after some deliberation because the wind had dropped during the final stages of the race.
And so, after four counting races, on the overall scoreboard today's result and first discard coming into play mean there is no change in the ranking order of the top 3 (Preiss, Martinho, Solidakis) but the chasing pack have narrowed the points gaps. Peter Eliens (NED-538) drops his DNC and shoots up into 4th place, knocking first Grandmaster Marco Begalli (ITA-415) into 5th overall.
Meanwhile in the youth fleet, we have almost the same scenario except that there is no change anywhere in the ranking order. Brazilian Leonardo Venturini took the bullet in front of Estonian Karl-Erik Saarm and Swiss Jan Orsatti crossed in third place. At the top of the leaderboard Karl-Erik is just two points ahead of Leonardo who, in turn, is four points clear of Jan.
In both fleets there is all to play for. Competition continues until Saturday 5th July - pray for wind!!
---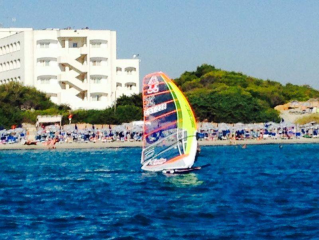 Three Races on Day One of the Gallipoli Y&M Worlds
Posted On: 02/07/2014 07:01:29
40 competitors representing 14 countries and 3 continents have gathered for the 2014 Gallipoli Youth & Masters World Championships taking place in Southern Italy. The race area is directly in front of the Caroli Hotel's le Sirene Resort, it is hot, it is sunny, beautiful blue water meeting nice sandy beaches . . . what more could you want?
A little more wind maybe? Three back-to-back races have been completed on day one in winds just above the lowest limit for Formula racing. The course was a standard trapezoid with leeward gates for this first round.
At the end of the day Estonian Karl-Erik Saarm has a perfect score at the top of the youth leaderboard and this is mirrored by Latvian Janis Preiss with a perfect score at the top of the masters leaderboard.
According to Windguru, Wednesday looks like another light wind day but hopes are that the winds will pick up Thursday into Friday so fingers crossed! Competition continues until Saturday 5 July. Stay tuned!
---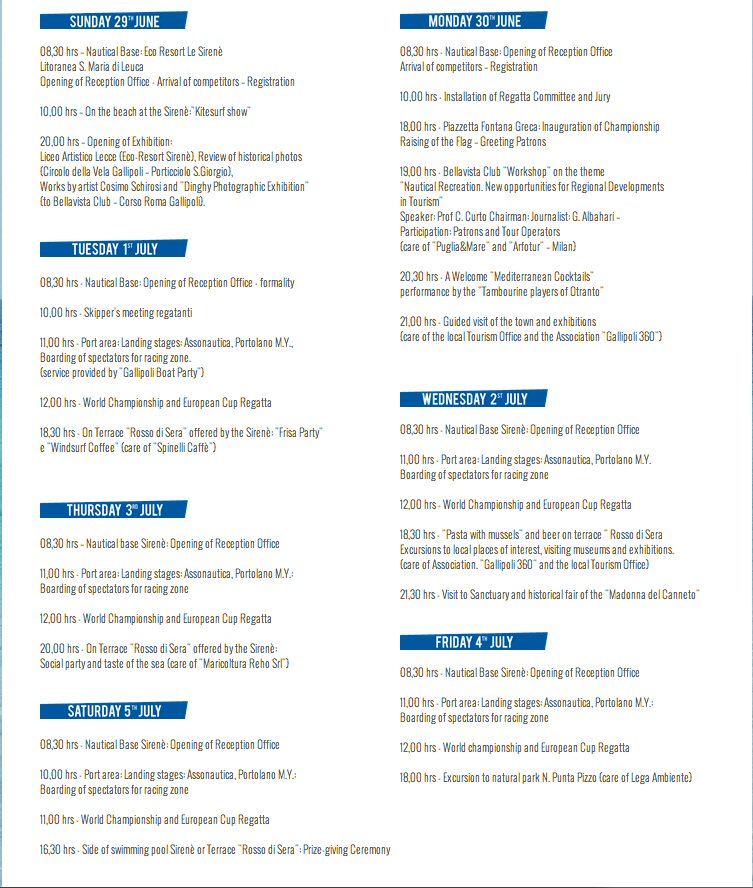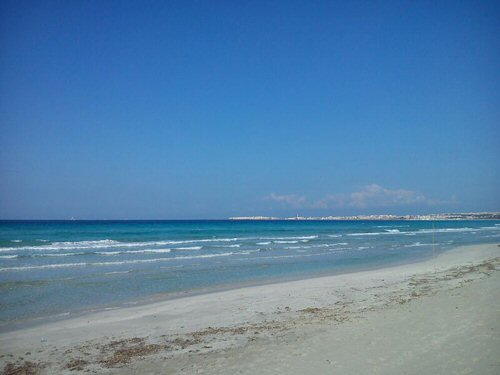 The 2014 Youth & Masters World Championship will take place from 30th June to 5th July at a fantastic location on the south coast of Gallipoli, in the heart of the Nature Reserve Punta Pizzo - Island St. Andrew. This extremely popular coastal resort has hosted great windsurfing events in the past in great weather and sea conditions. The local inhabitants regard sailing not just as a sport but their lifestyle, and the Olympic medals won by Alessandra Sensini have raised the profile of windsurfing.
The event will be organised by the Sail Section of the Istituto Nautico "A. Vespucci" in Gallipoli, a member of the Federazione Italiana Vela (FIV) since 1995. They have a strong team already in place and partners are coming on board to ensure a fantastic championship with plenty of cultural events and attractions in the pipeline to entertain competitors and spectators, both on and off the water.
This event is also a leg of the 2014 European Cup Series - so formula racers of all ages are invited to enter the event.
There is a wide range of good accommodation available - to meet all tastes and budgets!
Event website - http://surfingitalygallipoli.com/
For detailed enquiries about the venue contact - mailtinfo@surfingitalygallipoli.com
On June 29 there will be a preview of the event with the "Trofeo Madonna del Canneto" long-distance race promoting the "Citta Bella" and its folk traditions, open to all windsurfers. The start will be on the water in front of the Eco-resort "Sirene", racing to a buoy placed in front of the walls of the island city to the south and back to the finish, with different divisions according to age and gender. Details coming soon!
See you in Gallipoli ...