Connect to Windsurfing


INTRODUCTION
Connect to Windsurfing is an IWA initiative designed to share ideas and information which has evolved from the WS Connect to Sailing programme. We believe you will find this section informative, but above all we hope to encourage the development of windsurfing in a sustainable and effective way. We welcome your input and your questions.
Contact - iwaoffice@internationalwindsurfing.com
BROWSE CONNECT TO WINDSURFING below . . . or choose from the menu on the left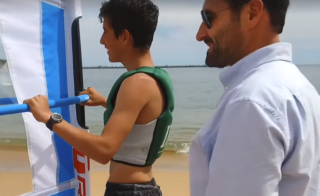 Techno 293 Development Programme
Without a doubt the Techno 293 class is the best option for young kids to enter the world of sailing and windsurfing. Here is the story of the Portuguese Sailing Federation and their support for the class in the country. [more]
A new fleet is developing in Portugal as a result of an initiative led by windsurfer Pedro Corte Moura, Vice-President of the Portuguese Sailing Federation. All clubs in the country were encouraged to enter a competition for Techno equipment and starter rigs. Five clubs in five different regions were fortunate enough to win and must now train and prepare their kids for their first Portuguese Techno Championship in 2020.
We look forward with great interest to see how they all get on.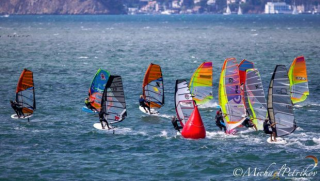 Windsurfing Is Alive, Well and Progressing
While windsurfing has been eradicated from too much of North America, it thankfully remains part of the culture (counter-culture?) on San Francisco Bay. Latitude 38 editor Tim Henry headed to one of his favourite windsurfing spots at the Berkeley Marina . . .
Berkeley is not exactly among the famous locales on the Bay, especially when compared to the epic scenery of Crissy Field, the gnarly ebb swells at Third Avenue in San Mateo or the nuclear sea breezes along the Delta. Berkeley is tame and quiet by comparison.
So we were surprised to see the grass in front of HS Lordships full of brand-new and stylish boards and sails, and lots of young windsurfers with their specialized vernacular. The event was part of US Windsurfing?s 2017 Nationals, and included foil-sailing, course racing, slalom, and the freestyle portion we stumbled on.
As windsurfers, one of the first things people usually ask us is, ?Why don?t you kitesurf?? One of our contributors even wondered if anyone still windsurfed at all anymore.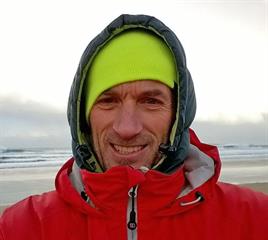 British windsurfer plans to sail 15,000 kilometers down Europe's Atlantic coastline
The British windsurfer believes it will take him two years to complete the 9,320-mile (15,000 kilometers) adventure in European waters. His planned route includes around 20 different countries. Dunnett, 43, kicked off his solo and unsupported journey at Grense Jacobselv, in Norway's Barents Sea, on May 16, 2017. He expects to conclude his "Windsurf Round Europe" project near the Russia/Ukraine border, on the Black Sea, by May 2019.
The intrepid windsurfer carries all he needs to sail and survive the elements - an emergency kit, gloves, hats, two dry bags with equipment, a paddle, "I will carry supplies to sail days at a time where necessary, and I will gratefully welcome support offered along the way," explains Jono Dunnett. "I am estimating a minimum financial requirement of eur 500 per month, factoring in that people are generous and I will benefit from a few free meals along the way."
The adversities are immense: cold, heat, nutrition issues, illness, injuries, landing difficulties, light and high winds, huge swells, currents, shipping, military zones, exhaustion, and political barriers. But Jono Dunnett is an experienced windsurfer. In 2015, he successfully completed a 2,200-mile (3,540 kilometers)
circumnavigation of Britain
in three months. This time, the sailor from Suffolk will ride a 2017 Starboard Phantom 377L windsurf board and a Severne Turbo GT 9.2 sail.
Dunnett needs your help - a place to secure the board and sail, food and water, and places to sleep are always welcome. He will also help raise funds for the World Wildlife Fund. "I have to admit this one is mad. My family is okay with it. They know they are not going to change my mind and I know what I'm doing. My mom was very worried last time but now she's much more relaxed."
If you want to know more about Jono, get the book "
Long Standing Ambition
." Good luck, Jonathan Dunnett. See you in 2019.
Q&A with Soufian Sahli, Beyond Boardshorts & the IWT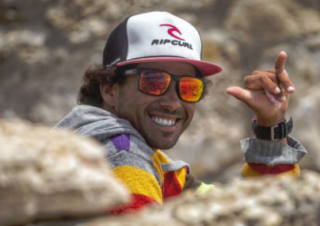 Reflecting on the IWT Morocco Spot-X competition, and more particularly on the young Moroccan windsurfers, we wanted to share more about the collaboration between the IWT and the non-profit Beyond Boardshorts. which has allowed 7 youths to enter the event and 2 young amateurs by taking care of their registration fees.
Sam Bittner: ?This year I heard about Beyond Boardshorts and all the good they are doing for windsurfing kids around the world who could use a little help with their desire to windsurf. Boujmaa has always told me about the great energy coming from Morocco with the youth windsurfing and the struggle for them to access gear. Boujmaa is an amazing inspiration and help to these kids, but Beyond Boardshorts has stepped in to support the youth even more. The image of these kids smiles coming on and off the water from their heats during the IWT event is unforgettable and I hope to collaborate with Beyond Boardshorts for years to come in an effort to support the kids!?
Beyond Boardshorts: ?Beyond Boardshorts was founded by professional windsurfers (Wyatt Miller, Tyson Poor and Bryan Metcalf-Perez), who saw the future generations struggling because of a lack of quality, up-to-date equipment, limiting their time on the water and training.
The mission of Beyond Boardshorts was established. ?To bring our passion for water sports to the worlds youth by providing inspiration, training and equipment to those who would not otherwise be able to participate in water sports such as windsurfing.?
In 2016, Beyond Boardshorts became a recognized US nonprofit organization. This means that the organization is a public charity and therefore donors can deduct their contributions. All of the donations received are distributed 100% to the cause.
Thanks to the generosity of donors, the nonprofit organization has been able to supply local kids with quality windsurfing gear in countries like the Dominican Republic, Mexico, Cuba and Colombia. In one event, enough money was raised to purchase a chase boat and trailer for the windsurfing club in La Paz, Mexico. Incidentally, the boat is used to assist the free instruction given to the locals.
Just recently, Beyond Boardshorts collaborated with the International Windsurfing Tour and local Moroccans, Boujmaa Guilloul and his companions, and were able to sponsor 9 local youths to the competition!
?We got involved with the International Windsurfing Tour because of its profound influence to inspire the future of windsurfing and the opportunities it provides for everyone to be involved and showcase their talents in a fun event that leaves everyone smiling!? -Beyond Boardshorts Team
The goal for Beyond Boardshorts is to continue supporting the future of windsurfing youth internationally and here at home.?"
Windsurfing Centre of Excellence for Australia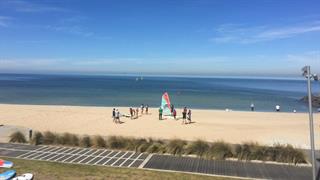 One of the mysteries of sailing is why windsurfing is so massive in Europe, and unpopular in Australia. Australia has a perfect climate year-round for windsurfing, as opposed to some countries where sailors break the ice off the lake before going for a sail! And compared to so many other forms of sailing windsurfing is attractive, it is cheap, the gear is easy to transport and store, and you don't need crew!
Like everywhere, the windsurfing craze hit Australia in the 80's and 90's. It was big. But over time interest seemed to wane. Why? One of the reasons is that windsurfing became an off the beach activity. Without proper structure, facilities and safety, it became a sport enjoyed by an ever-shrinking group of people. Identifying this challenge become the base for improvement.

Australia now has a Windsurfing Centre of Excellence - a facility that is about to change things around.

The facility was opened during the recent, highly successful World Raceboard Championships at Royal Queensland Yacht Squadron in Brisbane. The idea was to create a program and a structure to support windsurf training that can be rolled out at clubs across the country, to allow Australia to re-join the world in windsurfing.

The idea first came about three years ago as Australian Sailing was interviewing for a Head Coach for Windsurfing. The plan was to get the best coach possible, prepare athletes for the Olympics, while in the background creating a syllabus, improving instructor training and finding ways to introduce windsurfing to junior sailors. It had to be done properly otherwise the grassroots program would fail to deliver results

Five-time World Champion in windsurf disciplines and the first person to sail across the Baltic Sea on a windsurfer, Max Wojcik came from Poland to take on the position of Australian Head Coach, and started training athletes and instructors. The next step was to buy equipment and build a facility at his home club RQYS to see if the program could be self-sufficient.

Max says. "The course brings a surplus. In the long term this will cover the cost of the infrastructure and the equipment, as it proved to do with Tackers. So over time it will prove to be a self-sustaining program available to every club in the country. Things are so much easier as the Tacker program (Opti boat sailing for kids) delivered the processes and connections with schools that otherwise would take ages."

The Centre of Excellence is the pilot program. The next step is to meet with other clubs, share the business plan and equipment choices, share lessons and inspire instructors, parents and kids.

In the meantime windsurfing offers a full program to any primary or secondary school that can apply for Government funding. This is a great opportunity, especially now in Brisbane where things are about to blossom.

Max is starting to tour Australia, running free learn-to-windsurf courses to show clubs how easily the program can be rolled out.
"The biggest difference is we are now concentrating on managing groups of kids rather than giving one-on-one sessions. This is an important shift, as this enables the instructors to deliver quality and fun training to more kids. A lot of games are essential for our courses," says Max.
In the link
HERE
, you can find a 3 min video showing how is it done in Brisbane.

There's been a massive upswing in kids learning to sail in Optimists. However, it's a big gap to the next option, be it 29er, 420, Nacra 15 or Laser Radial, which are expensive crafts.

Windsurfing can fill the gap but can also expand the pool of interested kids to try something new and even more exciting. Bic Techno is a cheap option, you don't need crew, and it's fun. But until now there was no program.

The Windsurfing Centre of Excellence will change that, providing a pathway for kids who have the talent and are interested, and spreading the sailing fun for all.

Max Wojcik is confident. "The Tacker program is super successful. I can't see why windsurfing wouldn't be more successful. Maybe I'm biased but windsurfing is so much better than slow boats!"


Why does the wind seem almost to disappear when you sail downwind and increase again when you sail upwind? Let's learn what apparent wind "feels" like.
Beginner and advanced sailors have already felt it, but they probably haven't thought about it. When we sail in stronger winds, we tend to feel that we're moving faster than we actually are.
This sensation occurs when we start feeling high winds on our face or on our skin. Apparent wind is exactly that. However, let's rewind our lesson a bit to the concept of true wind.
The truth behind true wind
True wind is nothing more than the speed and direction of the wind that you feel when you are not sailing away, i.e., from a stationary observation point. Imagine yourself at the beach, just feeling the wind in your face and your body.
You're experiencing true wind or, in other words, the measurement given by your portable anemometer. For example, you look at the device, and the wind is blowing at 15 knots - that is simply true wind. Simple as that.
Now, suppose you're driving a cabriolet at fifty miles per hour on a windless day. The speed of the car through the stagnant air mass creates an "induced wind" of fifty miles per hour. In other words, if you stand up on your seat you will feel a fifty mile per hour wind hitting you in the face.
In this case, your apparent wind (50 mph) equals your induced wind (50 mph). But suppose you are driving at fifty miles per hour and that there is also a true wind coming from your right at fifty miles per hour.
You won't feel two separate winds, but instead one "apparent wind" which results from the combined effects of both the induced and true wind. While sailing, the faster we go, the more apparent wind direction swings forward.


There's a reason why port and starboard are words technically used to designate the left and right sides, respectively. Actually, in order to understand them, we must travel back through time.
It could be simpler, but some things in life have to be more complex. It is just the way it is. Port and starboard are often subject of confusion and misunderstandings. Even the most experienced sailors change the nautical left/right terms, once in a while.
Port and starboard are expressions that are not only used to express the relation of a watercraft to the wind, but also between sailing vehicles. But why do we call the left side of a windsurfer "port" and the right side "starboard"?

Can windsurfing be a lifestyle and why does that matter? Henrik Beyer, windsurfing author and health promoter answers an eternal question.
We have all heard it and used the word "lifestyle" to describe windsurfing. It is apparent in the eyes of a newly-hooked sailor that there is something special in windsurfing. But is it a lifestyle on its own?
The word "lifestyle" is used to describe a way of life, a manner, a behaviour or conduct that an individual or a group of people has when living and existing. A lifestyle is characterized by vitality and energy since it is closely connected with life itself. Not even a windsurfer can have a lifestyle when he or she is dead. However, lifestyle will forever be a collection of intangible factors, too.
So why is it important if windsurfing is a lifestyle or not? Find out More on SurferToday.com
Too Old for Freestyle? 5 Reasons Why You're Not
The better we get at windsurfing, the more we find ourselves looking for extreme conditions to challenge us. The challenge of windsurfing is ultimately what keeps us hooked and certainly on its day the spectacular British coastline can deliver incredible windsurfing.
An array of conditions to suit all abilities can be found within a relatively close proximity. However, shooting down to Cornwall or up to Tiree on an epic forecast is just not realistic for most. Instead UK windsurfing usually consists of what is available on the doorstep and for many this is typically an inland lake or coastal bump and jump sailing. Planing back and forth can after a while become a bit repetitive, even for the fully obsessed, so how do we keep it interesting?
Freestyle is a largely overlooked, but fantastic way to step it up even in the most average of conditions. With a new challenge comes the possibility of achievement and this tends to be what gives us the most enjoyment in any aspect of life.
Whatever your age, level or windsurfing orientation freestyle can offer you a fun way to rapidly progress your skills and it can make even a gentle breeze a lot more interesting! We'll come to the specifics later, but first Colin Dixon joins BOARDS to dismiss some of the awful freestyle rumours that may be putting you off, scroll through for more - http://boards.co.uk/how-to/old-freestyle.html/1
Thanks to Boards UK for this newsitem.
Six (un)orthodox methods for checking wind direction
Knowing the direction of the wind is critical to windsurfers and kiteboarders. There are many wind measurement methods; some of them are quite precise and accurate, some of them are just enough to sail away.
The wind compass is a simple and effective tool to know where the wind is blowing from. The information is given in letters (example: NE, SW), but the compass is usually divided into 360 degrees around the full circle. This will allow for more precise measurements.
Subtle changes in wind direction will have impacts on the way you sail. Although it not always possible to perfectly adjust to the right origin of the breeze, it is important to know different ways of checking wind direction wherever you are.
Onshore beach flags provide valuable information as they always shift with the wind. You can check them if you're at the beach, but you can also take a quick glance at them when sailing out in the water.
Hand pouring sand is another classic way of knowing where is the wind blowing from. It's quite easy; just let those grains tell you if it's offshore or side shore breeze.
One of the most accurate methods is the wind vane. Although you might not find many weather vanes near sailing spots, today you can easily afford a similar product for your smartphone. The WeatherFlow Wind Meter works like a portable anemometer.
Windsocks are not often seen near lakes, beaches or rivers, but if you're driving to your favourite sailing spot, you might pass by one of these conical tubes down the highway. Remember that in this particular case, the wind direction is the opposite of the direction in which the windsock is pointing.
The wet-finger-in-the-wind test is one of the most inexact and erroneous ways of analysing wind sources. The problem with the human wind meter is that it is clearly unreliable in very humid and very hot conditions.
Modern digital anemometers are the most accurate wind measurement method. These portable devices are sold with a broad range of options and functions such as air temperature, air pressure, and wind speed.
Do you know the Beaufort Wind Scale? Take a look at it. Knowledge is power.
Discover the most famous winds of the world. Check the wind forecast for your sailing region.

What is the best diet for windsurfers? Health promoter Henrik Beyer shares what research has to say about diets and how this relates to windsurfers.
In the beginning of a windsurfing season, many sailors realize that they have gained weight and consider to lose a few pounds. To what diet should they turn to help them?
Since the milk cure diet that was introduced in the 18th century, which assigned each individual a specific cow to drink from for a week, to "modern" high fat and low carbohydrates diets, we have learnt a great deal about healthy eating.
For centuries, diets have helped people to lose weight, but also consistently failed to assist people in keeping it off. Unfortunately, diets have a tendency to be short-term solutions to long-term problems, and can lead people to an unhealthy approach to food.
Windsurfers wanting to lose weight should ask themselves if they want a long-term solution or a quick fix that is likely to result in the weight returning after a few months. Losing weight is rather easy, but keeping it off is harder.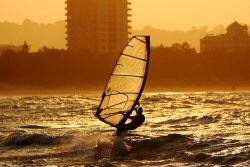 A healthy New Year's resolution for windsurfers
Promising a health behavior change for next year can be a powerful motivator for increased health and fitness in windsurfing. But it can also be a disappointment. Henrik Beyer gives us a few pointers to increase the effectiveness of a healthy New Year's resolution in windsurfers.
Lack of motivation or life circumstances can hinder even the most determined windsurfer to get or stay healthy and fit for windsurfing. Research has shown that people who decide to start an exercise program are far more successful if they plan their change and are prepared for setbacks and get social support.
We know that windsurfers enjoy health benefits and will increase their sailing performance if they stay physically fit and follow a healthy diet. But knowledge is not enough to help and make us change.
We do not have a certain amount of willpower stored specifically for health behavior change in our lives. Things such as choosing to go to the gym instead of staying home with your family will require some willpower for most people.
"Since each person has a limit amount of willpower, a New Year's resolution will be far more effective if you focus one thing at the time, and choose what is most important to you," says Henrik Beyer, author of "Health & Fitness for Windsurfing."
Beyer suggests that all windsurfers who are serious about their healthy New Year's resolution should answer these questions, and think about these aspects before making their promise. . . .
"We have all failed in life. It is absolutely crucial for success that we dare to fail. Each New Year's resolution is an opportunity to be successful if we are smart about it," concludes Beyer.

A windsurfing love story in the "Atlantic."
The Portuguese and the Spaniards were the first Atlantic Ocean explores. Back then, the Sea of Atlas was an immense secret, an incommensurable treasure. Today, the Atlantic is the center stage for personal adventures, too.
Jan-Willem van Ewijk, the director behind "Atlantic.," has filmed the story of a young Moroccan windsurfer who decides to embark on a solitary windsurfing voyage to Europe.
Fettah Lamara has a strong drive. He fell in love with Alexandra, a beautiful European woman, and he will not rest until he finds his passion in the Old Continent.
But the "Atlantic.," hides dangers in every swell. Will Lamara be able to touch the horizon? Will the saltiest ocean claim his soul? Van Ewijk, a professional aircraft designer, has pinched the story with the right amount of emotions, adventure and water.
"Atlantic." is a windsurfing love film. In 94 minutes, you're invited to dream alongside Fettah Lamara and Alexandra. Morocco is 300 kilometers (186 miles) away from Europe. Will distance tear them apart?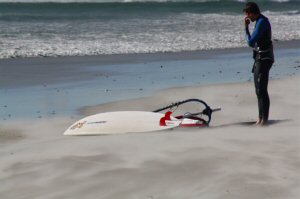 10 Golden Rules of Water Safety
Learning to windsurf isn?t just about learning to pull up the sail, blast along and turn around. Once you?ve mastered the basic windsurfing techniques, it?s time to learn the rules and etiquette that are key for every windsurfer to know. First up, we learn the Golden Rules of Water Safety with George Shillito.
SAIL SAFE
In times of need your board becomes your life raft, make sure you know how to minimise these times and react to them if it does go wrong.
Failing to prepare is preparing to fail?.
As you read, you may have notice that most of the points are nearly all done before your session on the water even begins and are all complete and utter common sense. Even so I can assure you that all of the below rules will have absolutely no effect to your sailing, nor get in the way of progression, or even damage your beach cred, but one day they might just save your life, so take note and make those otherwise unconscious checks a thing of the past!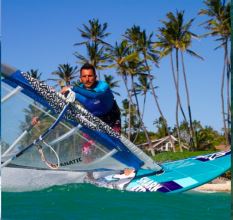 Why I Windsurf - Nik Baker
British summer windsurfing? means something different to all ?of us. Whether it's a road trip with friends, sharing warm days at the beach with family, or getting every ounce of speed out of your faithful freeride gear - it is without doubt what we live for in the cold dark winter months.
British windsurfing legend, Nik Baker talks about his love for windsurfing, journey through the sport and why sharing windsurfing with his family is now the priority?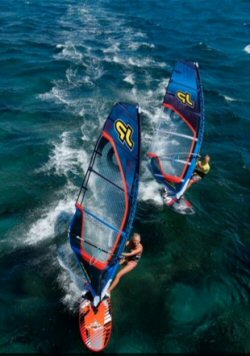 9 Ways to Spice Up Your Windsurfing
Do you feel like you are stuck in a rut with your windsurfing?
Have you fallen into the routine of heading to the same spot, with the same people and taking out the same gear in the same conditions?
Are you still enjoying your windsurfing, and all that our sport brings, but have a feeling that your progression has plateaued?
If you answered yes to any of the above, it is definitely time to spice things up a little and re-energise your windsurfing. Highly skilled and experienced coach, Andy 'Bubble' Chambers shares his advice on doing just this.
"For many people windsurfing is at the top of the list of leisure activities when you have any spare time, or even when you don?t. I understand that everyone has other commitments such as work and family, or other barriers to windsurfing including no transport, not enough money etc. This means that when you do make it to the beach or lake, your windsurfing time should be precious; you should make the most of it and NOT become a car park windsurfer.
Some people get into the habit of turning up at their local spot, standing for hours staring out to sea with their arms folded and giving it the good old beach chat about the tide not being right or the wind being too light/gusty/strong/wrong direction. This then moves onto discussing kit tuning, or what board someone has and how it should be set up, basically making excuses for not actually being on the water; you know who you are!
This is where spicing up your windsurfing can really make a difference. You should know when you get to the water you are getting out, no matter what the conditions are. You should be thrilled, ready and excited to hit the water as soon as you get there . . ." 9 ways to spice it up . . .

Committed to . . . reducing the number of youths engaging in drugs & alcohol. Surfity is a sustainable model for long-term success.

Our growing network of volunteer coaches, sports centres and kit donors enables underprivileged youths to experience sports that could change their lives forever.

"Young adults use drugs as a way of letting off steam, winning popularity and impressing their peers. Users typically turn to drugs simply because they're bored. Taking drugs at this important stage in their development has an extremely damaging impact on young people's lives and on the range of opportunities open to them later in life.

"Surfity is committed to reducing the number of British youths turning to drugs by giving them an escape route from boredom. Instead of dead ends and short-term fixes, we offer the adrenaline rush of sports like windsurfing, kite surfing and sailing. Participants in the Surfity programme will also benefit from the knowledge and experience of their peers - likeminded people committed to helping keep them off drugs and on the right track.

"By making adrenaline sports more accessible, we aim to offer underprivileged youths a credible alternative to drugs.

"Surfity offers access to equipment and coaching, giving participants the chance to learn and try a range of thrilling, fulfilling sports. We recruit coaches from local centres of excellence and provide participants with equipment donated by members of the public.

"We are dedicated to helping British youth find alternative means of excitement and fulfilment in their lives."

We offer our youth: A way of keeping fit and feeling good
A chance to let off steam and beat boredom
Something to believe in and look forward to
Engagement with likeminded people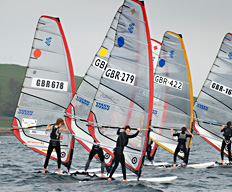 The RYA can confirm that following a successful bid to Sport England as part of the RYA 2013-17 funding bid, an opportunity to review, update and refine the RYA Champion Club programme has arisen.
For the last 15 years, Volvo Car UK has been a great supporter of Sailing globally and in particular in the UK in part as the title sponsor of the RYA Champion Club Programme. The RYA is delighted to announce that Volvo will continue to offer considerable support to British sailing, from the very elite level of our sport to grass roots, but our sponsorship strategy has dictated a slightly different approach whereby Volvo Car UK will continue to support the RYA on a broad basis and specifically the British Sailing Team, but will no longer be the title sponsor of the RYA Champion Club Programme. However, this has given us a timely opportunity to review the brand, the aims, objectives and benefits of the RYA Champion Club Programme . . . more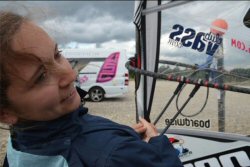 How to Improve Your Windsurfing From the Sofa - We all want to get out windsurfing, we all want to improve, but sometimes weather/commitments don't allow for as much on water time as we would like. But don't worry, we?ve got it covered. You CAN still improve your windsurfing from the safety of your sofa.
For 99% of windsurfers mastering new skills involves practice and lots of it. Yes, this means hours on the water, but there's a lot you can do off of the water too in a spare half an hour that will see you improve beyond belief. Read more on Boards.com . . .
The best flat water spots in the world - Flat water spots are the best pick for speed sailors and freestyle creatives. With 20-knot side-to-offshore wind conditions, smooth H2O surfaces are perfect for wind sport fanatics.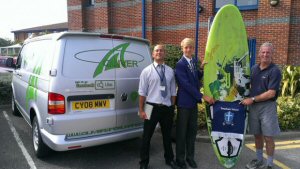 GCSE Windsurfing - Did you know that you can study windsurfing as part of your GCSEs? From our experience it is possible to use windsurfing as an assessed sport at both GCSE and A level, the ease of doing this differs from school to school, but it absolutely possible (even if the teachers say it isn't at first!). Many top windsurfers have used their favourite sport to boost their PE grades!

Getting Started - ?The thing that puts most people off windsurfing is they think it?s too difficult. Or they won?t be strong enough or are too old. But none of these things are true. Windsurfing is about learning technique and anyone can do that, especially with all the new developments in equipment. Then the windsurfing world is their oyster.?
These are some of the common misconceptions held up as 'daunting' reasons why potential newcomers to the sport never go any further than thinking it might be a cool pastime reflects Amanda Van Santen, RYA Chief Instructor, Dinghy and Windsurfing. There are arguably more routes than ever before into taking those first tentative steps on to a board, yet the common reasons not to remain all too well-worn. Amanda and Gillian Wright, RYA National Windsurfing Development Officer, make it their raison d'etre to explain to the population at large - adults and kids - why these 'reasons' are nothing more than myths.
Are you fit to Windsurf? - RYA Physiotherapist, Matt McGovern, looks at the simple things you can do to make sure you don?t spend the summer nursing niggles or watching on frustrated from the shore.
Have you got what it takes? - Dan Hallam, UKSA's chief watersports instructor, talks us through the skills required to become truly inspirational within this booming industry.
Club Windsurfing - Getting People Hooked In! - The RYA is always looking at ways to get as many people as possible to enjoy the pleasures of windsurfing; but you may be surprised to hear that one of the best ways to do this is by joining your local windsurfing or sailing club.
Team 15 - Every sport needs a "grass roots" scheme . . . Team 15 could be the model for you follow; to adapt and modify to suit your needs and resources.
Project Windsurf UK - created by the RYA, "aims to promote windsurfing clubs & groups in the UK, and link individual windsurfers with these groups, encouraging more people go windsurfing more often . . ."
Techno 293 - "The Techno 293 Class is devoted to fostering the development of windsurf racing for competitors under the age of 17 years old around the world through the promotion of an inexpensive racing format."
FLOW Riders - FLOW has brought together a fantastic group of female watersports ambassadors, who like FLOW are intent on encouraging and developing women's watersports
Start Windsurfing - To get as many people as possible on to our sport, Starboard have created the new Start-Windsurfing website.
More People Windsurfing, More of the Time - The RYA's Chief Instructor, Dinghy and Windsurfing; Amanda Van Santen takes a look at what is happening at UK windsurfing clubs to motivate us this year, as well as providing others with top tips from those clubs who are clearly doing it right
I'm too old for a sport like that - Learning to windsurf is often thought of as something for younger people only, but actually the great thing about windsurfing is that it is a sport for everyone, regardless of age.
Never too Old - Chief instructor for the RYA Amanda van Santen introduces one of the most enthusiastic groups of windsurfers you could ever hope to find. - I often get asked by people what the best age to learn to windsurf is, or if there is a suggested time to stop. My reply is always the same, just like every sport, 'you're never too old', and 'try and keep going as long as you can and it is safe to do so!' Your location and kit choice may change, but there is no reason why, as long as you are fit and healthy, that you can't carry on enjoying such a great sport.
Progressing Your Skills - Top Tips on how to from RYA Chief Windsurfing Instructor Amanda Van Santen. - Taking that initial step to learn a new sport can, for some people, be the biggest hurdle, for others it's the learning curve that follows . . .

Out of Africa - British wave sailor Vickey Abbott has made the beautiful island of Sal, Cape Verde her home. With her own business on the island Vickey has both, fully settled into Cape Verde life and been able to score some incredible windsurfing conditions. Whilst it is usually the reef breaks you here about from CV, Vickey has a slightly different story to tell ....
Tips and Tricks - Starts, Recovering, Buoy Rounding, Tuning, Testing, Training . . .
THE INVENTION OF WINDSURFING