Competition/SA Paracas 15



2015 SOUTH AMERICAN WINDSURFING CHAMPIONSHIPS

An event including the
2015 RS:X SOUTH AMERICAN CHAMPIONSHIPS
2015 RACEBOARD SOUTH AMERICAN CHAMPIONSHIPS
2015 TECHNO 293 SOUTH AMERICAN CHAMPIONSHIPS

3rd to 8th December 2015 - Paracas Bay, Pisco, Peru


















---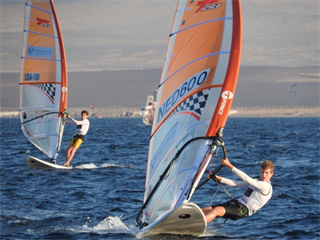 Competition Concludes in Paracas
Just as the morning before, the postponement flag fluttered under cloudy skies in anticipation of afternoon wind. For some, on this final competition day, it was a tense wait. The wind gods were kind, providing good conditions for three races, making a total of 13 races in all for the championship.
In the men's RS:X fleet, Daniel Flores (VEN-1) is the undisputed champion, 9 points clear of second placed Brenno Francioli (BRA-70). The battle for third place was won by Eduardo Herman (CHI-1) who crossed the finish line ahead of Alessio Botteri in all three of today's races.
Maria Bazo (PER-50) strengthened her first place position in the women's RS:X with two bullets today, finishing a point clear of Bruna Mello (BRA-49) in second.
In the Raceboard Fleet, Fernando Consorte (ARG-355) was another undisputed champion, a good 14 points clear of Udo Schenker (BRA-172) who takes second place on the podium. Third placed Fernando Olmos (ARG-351) was unable to sustain his challenge dropping back to 5 points behind Udo.
Jim Van Someren (NED-600) has a comfortable Techno 293 championship win, 6 points clear of Geronimo Nores (USA-108) who settles for second. However, neither are eligible to claim the title of 2015 Techno Youth Boys South American Champion which goes to Martin Nores (ARG-407). Brazilian Andre Thome fought a tough battle, beating Martin over the finish line in all of today's races, but ended the championship two points behind.
First Techno 293 Youth Girl, Larissa Schenker (BRA-774) has had a mixed bag of results but has done well to come 6th overall in the fleet, closely followed by Manuel Nores (USA-737) 1st Junior Boy in 7th overall. 1st Junior Girl is Lucia Llerena (PER-80).
There is no doubt that all the competitors and spectators, both local and foreign, have thoroughly enjoyed the Paracas winds and calm seas in the bay making for excellent and entertaining competition racing. Everyone involved both on shore and on the water are to be congratulated for providing a great championship.
---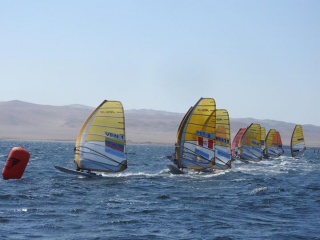 Paracas Championships - The Penultimate Day, Competition Heats Up

The morning of day four was cloudy, cold and windless. A long wait for competitors keen to make their mark on this championship until the wind finally came in at 1500. Some sun was shining through the fog as it dispersed, heralding good winds for three races during the afternoon.

It seems that VEN 1, Daniel Flores, has the Men's RS:X title in the bag - provided he avoids another DSQ and OCS! At the end of day four he still has a ten point lead over his Brazilian rival Brenno Francioli. A real battle is going on for third place as Peruvian Alessio Botterri steps on to the podium in place of Chiliean Eduardo Herman, Alessio claiming the bullet in race 10.

Just three ladies in the RS:X women's fleet and Peruvian Maria Bazo and Brazilian Bruna Mello are so well matched that there is currently a tie break, in Maria's favour, for first place.

Absolutely no doubt that Fernando Cornsorte from Argentina is safe at the top of the leaderboard in the Raceboard fleet with a perfect 9 points after ten races. He excels in strong winds. Keen competition behind him though as Fernando Olmos, also from Argentina, beat the Brazilian Udo Schenker in every race and ends the day just one point behind. No doubt he will be hopeful of similar conditions on the final day to drive him up to second place overall.

In the Techno 293 fleet second placed American Geronimo Nores is on a charge and, with 2 races to go, may yet overtake Jim van Someren from the Netherlands. The South American youth title is still in dispute between ARG and BRA as Martin Nores kicks Andre Thome off the podium ending the day 5 points ahead.

Brazilian Larissa Schenker has the Youth girl title barring disaster in the final races and likewise Manuel Nores from the USA looks to be First Junior provided he makes no mistakes.
---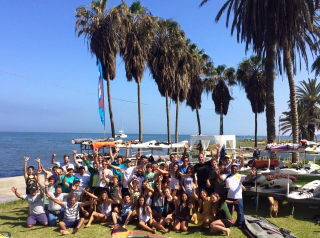 Three races completed on day 3 of the "Paracas" Championships
A day of two halves out on the race course on day 3 at the Paracas South American Windsurfing Championships.
After a short delay waiting for the breeze to pick up late in the morning, it was only possible to complete one race before a break for lunch; and time to allow the wind to settle into the anticipated pattern for the afternoon session. A further 2 back to back races were completed before the day's end in winds around 18-20 knots.

In the Olympic class the conditions clearly suited Daniel Flores (VEN), and 3 first placed finishes enabled him to pull clear from second placed Brenno Francioli (BRA) in the overall rankings.
Bruna Mello (BRA) in the RSX Women's group won her first race, but Maria Bazo (PER) took two bullets to narrow the gap to one point.
Fernando Consorte (ARG) now has a commanding lead over second placed Udo Schenker (BRA) in the Raceboard fleet overall ranking after 7 races.

Over in the Techno 293 fleet it was very much a mixed bag of results for the leading sailors. Jim van Sommeren (NED), with a win in the first race of the day, continues to lead in the overall ranking but the gap is closing between him and the next 3 racers. Martin Nores (ARG) had a good day with two bullets in the back to back races, and is now tied on points with 3rd placed Andre Thome (BRA).
Manuel Nores (USA) took the lead from Lucia Llerena (PER) in the Junior division, as he clearly prefers the windier conditions experienced today.

In summary - a beautiful, sunny, blue sky day, about 22C with wind . . . everybody happy and tired!
---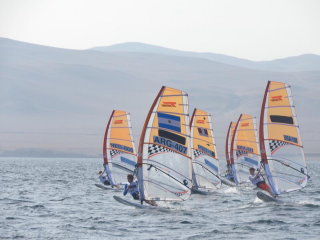 Two more races on Day 2 of the South American Championships
A frustrating start to racing today. First there was a delay waiting for the breeze to pick up in the afternoon, and then the first race of the day had to be abandoned as it was unlikely that a sailor would be able to finish within the time limit. However , conditions improved and the race committee were able to complete 2 back to back races before the day's end.
In the Olympic class the day belonged to Brasil - both Brenno Francioli and Bruna Mello won their races - and the gap at the top is narrrowing.
Fernando Consorte (ARG) did not have it all his own way today; Udo Schenker (BRA) won the first race of the day and keeps the competition alive in the Raceboard fleet.
It was a similar story in Techno 293 - Larissa Schenker (BRA) also taking the first bullet of the day; but Jim van Sommeren maintains a comfortable lead in the overall ranking with a win in the final race of the day.
A consistent day's racing from Lucia Llerena (PER) ensures she leads the Junior division after 4 races.

---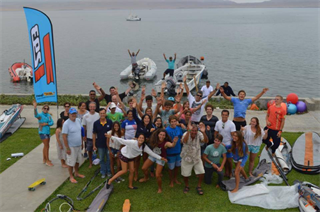 Day 1 of racing at the Paracus South American Championships
35 competitors from 7 nations completed registration at the 2015 South American Windsurfing Championships taking place in Paracus, Peru.It is great news to see racers from 5 South American countries - Argentina, Brasil, Chile, Peru and Venezuela - being joined in Paracus by representatives from the Netherlands and USA.Day 0 of the championships saw the start of registration, rigging and training, a practice race and an opening ceremony with dinner.The following day it was down to the serious business of championship racing in 3 classes - Raceboard, RS:X and Techno 293 - where 2 races were completed for all.It was a fantastic start for Daniel Flores (VEN) and Fernando Consorte (ARG) in their respective classes, RS:X and Raceboard, with two bullets each.Jim Someren (NED) had it tougher sharing one win apiece with Geronimo Nores (USA); but heading the leader board at the end of the day with a second place in race 1.With 4 more days of racing to go it is still anybody's title to win.
---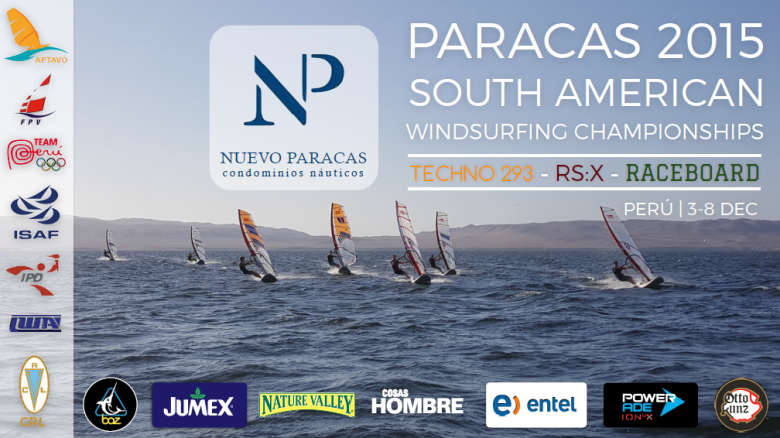 ---