Competition/RSOne Worlds 13

Hong Kong Sailors Dominate RS:One Worlds

RS:One racers from around the world, gathered all week in Istanbul on the bay of Beylikduzu, have enjoyed a very windy regatta to date; but today they experienced the bay's full fury! The wind average was 28 knots with gusts up to 34 knots. In these nuclear windy conditions, the Pulsar course was chosen one more time. With marks 1 and 3 as close as possible to the shore an outstanding slalom spectacle was guaranteed.

2 further races, bringing the series total to 14, were executed in these memorable conditions. The Hong Kong Team controlled the fleet after a week of domination in both Male and Female divisions, but the drama of the day was reserved for the battle for the men's 3rd place. Giuseppe Zerillo from Italy missed the podium by 1 point from Turkish racer Ugur Iyigun, who managed 2 clear victories today.

Hong Kong, with many talented competitors, took both world and vice world titles in the Male and Female championships. They will inspire the young Turkish RS:One generation which for sure will remember this championship for many years to come.

Istanbul and the bay of Beylikduzu have proven their potential to welcome international sailing and windsurfing events, and possibly Olympic competitions in 2020 if Turkey will be selected by the IOC.

The 2013 journey for RS:One will now continue with the NeilPryde Racing Series events in Cardiff, Nice and Brazil; and will end in December at the 2013 SEA Games in Myanmar.

Final Ranking after 14 races:


2013 RS:One Female World Championship:
1st Lo Sin Lam - HKG
2nd Ma Kwan Ching - HKG
3rd Blank Shai - ISR

2013 RS:One Male World Championship:
1st Kwok Fai Cheng - HKG
2nd Lee Chun Ting - HKG
3rd Ugur Iyigun - TUR

2013 RS:One Espoir Men Championship:
1st Lee Chun Ting - HKG
2nd Guiseppe Zerillo - ITA
3rd Kaibigan Yancy - PHI

2013 RS:One Senior Men Championship:
1st Kwok Fai Cheng - HKG
2nd Ugur Iyigun - TUR
3rd Cem Duman - TUR
---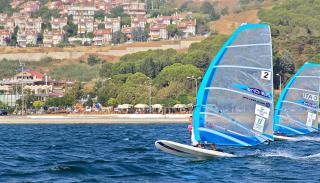 The Penultimate Day at the RSOne Worlds

The bay of Beylikduzu in Istanbul showed today all its muscles with wind gusts up to 30 knots. No doubts for the course format choice, confirming the spectacular and dynamic "Pulsar" format, a short course racing with downwind slalom after a reaching start.

In conditions where a normal windsurfer would use a 4.5 sail, RS:One racers performed with 7.8 sails proving yet again the incredible range of the RS:One, able to race from 3 to 30 knots without changing gear.

While the Hong Kong Team has been securing their lead in both Male and Female division, Ugur Iyigun from Turkey was undoubtedly the man of the day with 2 clear bullets and a third place in the last race allowing him to come back to the 4th position, threatening Guiseppe Zerillo from Italy.

Tomorrow is the last day of racing for this incredible RS:One world championships and the guru sees red with potential gusts up to 27 knots promising another intense race day.

Ranking after 12 races:

Female:
1st Lo Sin Lam - HKG
2nd Ma Kwan Ching - HKG
3rd Blank Shai - ISR

Male
1st Kwok Fai Cheng - HKG
2nd Lee Chun Ting - HKG
3rd Giuseppe Zerillo - ITA
---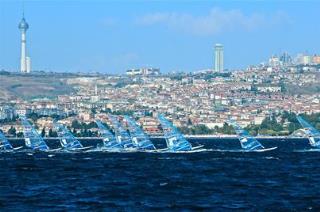 Day Three - The Bay of Beylikduzu, possible Olympic 2020 sailing venue, is continuing to deliver incredible, and very windy, windsurfing conditions for the gathered organizers, media and competitors.

"Pulsar", a compact course, racing on a downwind slalom with a reaching start, turn the event into a incredible show with racers becoming slalom gladiators with wind gusts up to 29 knots.

In these magical conditions, the racers speed and control is amazing. The RS:One has shown its incredible performances range, featuring great control and astonishing top speed.

Turkish PWA slalom star, Pamir Sacan, was one of the favorites with this format but, despite a good rank in the races, he was not able to contain the aptitude of the Asian Hong Kong winning machine. The Philippines squad has been also in control in wind conditions that they are not used to. Guiseppe Zerillo from Italy is a man to watch as he is on 3rd position, patiently awaiting a mistake from the Hong Kong leaders. It is an identical scenario in the female division with Israeli Shai Blank in 3rd place while Hong Kong girls are leading.

Tomorrow, the guru see pink, stay tuned!

Ranking after 9 races:

Female:
1st Lo Sin Lam - HKG
2nd Ma Kwan Ching - HKG
3rd Blank Shai - ISR

Male
1st Kwok Fai Cheng - HKG
2nd Lee Chun Ting - HKG
3rd Giuseppe Zerillo - ITA

Full Results after 9 races: Men / Women
---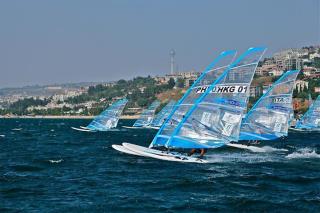 The RS:One Class is holding its second World Championship. In 2012 the first world championships delighted racers, set in one of the most beautiful islands of the world: Boracay in Philippines. This year the possible 2020 Olympic venue in Istanbul has been selected.

6 nations from 3 continents are now contesting the male and female world titles in idyllic wind conditions ranging from 20 to 27 knots.

The 'Regatta' course format was chosen for the first day, and featured a classic windward/leeward course. Hong Kong and Philippines teams dominated the first 3 races.

Today's (Day 2) 'Marathon' format delivered 3, fantastic, long distances slalom races - in and out races, with impressive performances from the racers delivering top speeds up to 29 knots. A total of 18 miles were completed, crossing the beautiful bay of Beylikduzu, a day that produced an enthusiastic response from all competitors. It was a stunning performance from the Turkish Ugur Iyigun with 2 clear bullets at the first and second races but unfortunately his domination was stopped with a piece of wood stuck on his fin at the last reach of race 3.

Hong Kong Team is clearly determined to claim the title in both male and female divisions, with top ranking position after 6 races, but for sure the games are not over and countries like Italy, Philippines, Israel and Turkey are not far behind.

The windguru forecast for tomorrow is turning to red ! with gusts up to 28 knots which will probably push the race committee to select the 'Pulsar' course. Short course racing on a downwind Slalom with a reaching start which will, for sure, bring some surprises for the leaders.

Ranking after 6 races:

Female:
1- Lo Sin Lam - Hong Kong
2- Ma Kwan Ching - Hong Kong
3- Blank Shai - Israel

Male:
1- Kwok Fai Cheng - Hong Kong
2- Lee Chun Ting - Hong Kong
3- Giuseppe Zerillo - Italia
Full Results after 6 races: Men / Women
---
RSOne Worlds - Breaking News

In less than 13 days, the RS:One 2013 world championships will delight the best racers from the planet at the possible 2020 Olympic Istanbul venue. Breaking news, a 5000 US prize money has been granted by sponsors. Haven't you confirmed your entry yet? Hurry up!
ACCOMMODATION

BEYMARMARA SUITE HOTEL
PHONE: 00 90 212 853 37 33
FAX: 00 90 212 853 37 60
E-MAIL: info@beymarmara.com
AIR TRAVEL/TRANSPORTATION/TRANSFERS
ATATURK AIRPORT/ISTANBUL- CONTACT BEYMARMARASUITE HOTEL FOR TRANSFERS
EARLY ARRIVALS
Competitors arriving early are advised that support from the organizers can be provided from Deniz Pekdemir-0090 212 853 37 33
PREVAILING CONDITIONS
Wind: average 15-20 Knots. Water temperature: 19 C. Air temperature: 28 C.
CHARTER EQUIPMENT
Charter of a complete set of RS:One equipment is available at the all inclusive price of 299 euro (charter fee + entry fee).
To confirm your requirements make your online entry see NoR # 4.3. Entry should be made by July 12th to ensure that equipment will be on the event site for you by August 11th.
For further info re charter contact: rs.one@internationalwindsurfing.com