Competition/RB T293 Africans 13
RESULTS

2013 TECHNO 293

& RACEBOARD

AFRICAN CHAMPIONSHIPS

2nd to 7th September 2013

Port Yasmine, Hammamet, Tunisia
African Championships Completed
After 6 championship races, Algerian Bouras Hamza claims the title of Raceboard Men's African Champion, having scored 4 bullets and a second to count. Tunisian Mahjoub Karim has to settle for second overall but first master. Algerian Belaidouni Zakaria Ism was third overall. First youth was Tunisian Mankai Yessine.
Over in the Techno Open Fleet competition was tight over their 7 races but Chihi Khaled from Tunisia takes the overall win having claimed four bullets and two thirds to count, just one point clear of his nearest rival Algerian Adjlia Hamza who had two bullets, three second places and 1 third to count. Fellow Algerian Chemaa Salaheddine was third overall and also claimed a bullet in race 4.
In the Techno Junior Fleet (under 15's) Tunisian Fkih Salim totally nailed the competition by winning all 7 of his races and, likewise, so did Tunisian Safwene Mami in the Techno Youth Fleet (under 17's) - both very worthy winners!
Tunisians Dominate Top Places at African Championships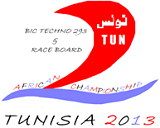 After three races for all fleets, Tunisian Mahjoub Karim is at the top of the Raceboard leaderboard with consistent results of two second places and a bullet. He is five points ahead of Algerian Belaidouni Zakaria Ism who won the first race of the championships but then took a second then a third. Fellow Algerian Bouras Hamza currently lies in third place having taken the bullet in the third race. Tunisian Menkai Yessine is first youth but has some way to go to reach the top of the leaderboard. Above him is first Master Bouchebka Said from Algeria.
Over in the Techno 293 Open Fleet Tunisian Chihi Khaled is storming ahead with two race wins with Algerian Adjilia Hamza, who took the first race of the championship, three points behind in second overall. Fellow Algerian Chemaa Salaheddine is breathing down his neck just one point behind in third place overall.
In the Techno 293 Youth and Junior Fleet, Tunisian Safwene Mami seems invincible with three bullets leaving Algerian Mebarkia Mahdi 4 points adrift in his wake. Just another two points behind and third on the leaderboard is Fkih Salim from Tunisia who is the first Junior.
Competition continues at Marina Yasmine Hammamet until 9th September.
FURTHER INFORMATION SHEET (pdf):
Complete package of 450 euro per person (participant, coach, team leader) is available including: inscription, accommodation, meals and transportation between the airport and Marina Yasmine Hammamet both ways from the day of arrival to official departure day.

Early Arrivals / Support Boats / Transport to & from the Airport / Sailing Conditions and more . . .