Competition/RSOne Euros 13

RSOne Europeans - The Final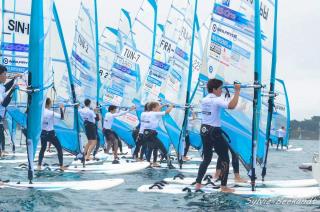 It has been a hard week of shifty winds and difficult weather conditions for the RSOne European Championships at the Crocodiles de L'Elorn Club in Brest. On the final afternoon the RS:One Men and Women enjoyed slightly stronger winds and France was awarded two more European champions.
There are no discards in RS:One racing. In the women's competition, Lucie Pianazza won 7 races out of 13 and logically takes gold. Singapore's Audrey Yong won the other six but faced stiff competition for second places. She ended up 16 points behind Lucy but takes a well-deserved silver place and bronze goes to local sailor Anne-Claire Girard.
It was an epic day for the men competing today for the title. Frenchman Hugo Mollard-Tanguy fell at the start of the very last race, but made an incredible comeback to finish in 4th place, thus showing he truly deserves gold and the title of 2013 RS:One European Champion. He finished the championship with a stunning 15-point lead over Maxime Abiven, racing in his home waters, who took silver. Tanguy Turpin, third place on the podium, won this last race and narrowed the gap between him and Maxime to just one point.
---
A sunny exciting day in Brest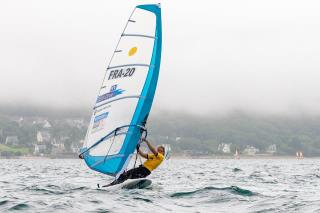 The dream combination of sunshine and wind delighted the competitors. With 10 to 12 knots, the race committee treated the fleets with three races. The competitors sailed under the watchful eye of Jean-Pierre Champion, President of the French Federation of Sailing. With one more race tomorrow, the RS:One enjoyed their three races today. The 30 participants (10 women and 20 men) are mostly French.
After a total of 12 races, Hugo Mollard-Tanguy has increased his lead to 16 points ahead of his nearest rival - no longer Alec Hereledan as he has dropped off the podium but Maxime Abiven has moved up to second place overall and Tanguy steps up to third place. Michael Tanguy (FRA-682) will be delighted with his first place in race 10, likewise Baptiste Grall (FRA-299) winner of race 10.
In the ladies, Audrey Yong from Singapore took the wins in races 10 and 11 but the 15 point gap between her and front runner Lucie Pianazza is unassailable at this point in the competition. Anne Claire Girard (FRA-225) is currently three points behind in third position.
---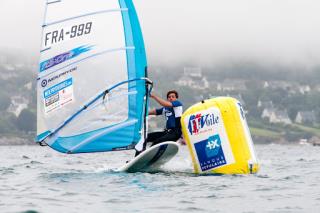 What a difference a day, and a different style of racing, make! Hugo Mollard-Tanguy revelled in today's conditions with two bullets and a second place which puts him a clear 14 points ahead of Alec Herledan. Tanguy Turpin also had a great day with 3, 1, 2 and is now just two points away from kicking Maxime Abiven off the podium.
In the ladies Lucie Pianazza sits comfortably at the top of the leaderboard with a 13 point lead but Audrey Yong has leap frogged to second place with two bullets and a second today. Anne-Claire Girard is just one point behind her in third place overall.
---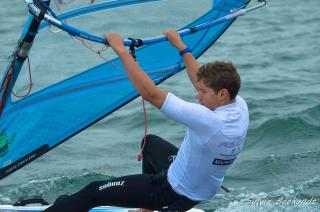 After 6 races Alec Herledan (FRA-919) and Hugo Mollard-Tanguy are both on 15 points at the top of the leaderboard, a clear 7 points ahead of their nearest rival, local club member, Maxime Abiven (FRA-235) with 22.
Lucie Pianazza (FRA-20) has stamped her authority over the women's fleet with four race wins under her belt and two seconds. Anne Claire Girard (FRA-225) is in second place with 18 points, Lucine Bossard with 20 points is third.
Thursday is a "day off" for RS:X but 3 races are scheduled for for RSOne with the "Pulsar" race course format (dynamic short close to the shore slalom race format) starting at 2pm.
More photo sets:
https://www.facebook.com/media/set/?set=a.578119212239617.1073741888.446624822055724&type=3
https://www.facebook.com/media/set/?set=a.577657915619080.1073741887.446624822055724&type=1
https://www.facebook.com/media/set/?set=a.577572472294291.1073741886.446624822055724&type=1
---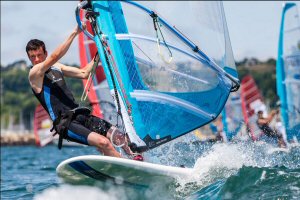 The 2013 RS:X European Windsurfing Championships, the RS:X Open Youth European Windsurfing Championships and the RS:One European Championships will be organised in Brest, France by Les Crocodiles de L'Elorn in co-operation with the French Sailing Federation (Federation Francaise de Voile, FFV) and NeilPryde Bikes from the 30th June to 7th July.
Brest, homeport to many sailing record events will host the three European Championships bringing together the future and present champions of both the RS:X and RS:One windsurfing classes. 270 athletes from 38 different countries will gather in the Port du Moulin, with 240 competing in the RS:X Olympic Class (half of which are participating in the Youth European Championships) and 30 in the RS:One Class.
A cosmopolitan fleet will be on the start lines with athletes from European countries such as Italy, Poland and Turkey as well as from further afield with sailors from Tunisia, Singapore or New Zealand. The Tunisian Team will find the event great preparation for the Raceboard African Championships, the first significant windsurfing championships to be hosted in Tunisia later this year.
For the Singapore Team, these championships are another stepping stone in their preparation for the 27th South East Asian Games, hosted by Myanmar in December 2013, which will include windsurfing in the RS:One Class as an event within the sailing regatta.
Inaugural World Championships were held last year in Boracay, Philippines and the European Championships took place in Sopot, Poland. This competition in Brest is the next opportunity to promote this fast developing class.
Athletes are expected in Brest on Sunday 30th June. Monday 1st July will be dedicated to registration, equipment checks, practice races, coach meetings and the opening ceremony. Racing starts on Tuesday 2nd July through to Sunday 7th included, Thursday 4th being a reserve day.
The prize-giving ceremony will take place on Sunday 7th July at 8pm. Bring it on!
by Coralie Rassinoux - View full event report: in English / in French / in Spanish



2013_07_02 European RSX RSONE Brest - Christian Chardon 314 (123)