Competition/SouthAmericans 13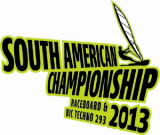 2013 SOUTH AMERICAN WINDSURFING CHAMPIONSHIPS
2013 TECHNO 293 SOUTH AMERICAN CHAMPIONSHIPS
2013 RACEBOARD SOUTH AMERICAN CHAMPIONSHIPS
28th March to 1st April 2013 - Club Nautico Cordoba, San Roque Lake, Villa Carlos Paz, Cordoba, Argentina
FINAL RESULTS - T293 / FINAL RESULTS - Raceboard
Photo Albums: Day 4 / Day 3 / Day 2 / Day 1
---
South American Championships
Posted On: 04/04/2013 12:25:36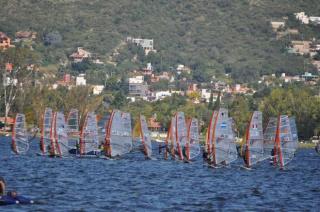 The South American Championships for Techno and Raceboard took place on the waters of San Roque Lake, hosted by Club Nautico Cordoba, Argentina, from 28th March to 1st April, with 27 techno racers between advanced and beginners from five countries and 40 raceboard competitors from 4 countries. Five days of racing, with predominant strong winds in the range of 18+ knots on the first 3 days.
Brazilian Martin Berardo revelled in these conditions, taking the bullet in 8 of 11 races, and thus his Championship win in the Raceboard Fleet was well deserved. His closest rivals, both Argentinians, Julian Lopez Beck and Nahual Abram, finished on equal points.
In the under 17's techno, Argentinian Francisco Saubidet Birkner also dominated the Championship with 7 wins in 9 races. Gustavo Manzo (ARG) raced consistently well to take second overall and Maximo Nores from the USA fought hard to take third.
The USA were victorious in the under 15's techno with Geronimo Nores taking the Junior title. 2nd junior was Ivan Barth from Argentina. American Steven Cramer managed to fight his way back to the third place on the last day of racing after having survived some tough conditions the day before.
---
Cordoba welcomes the South American Championships ....
Posted On: 25/03/2013 20:24:49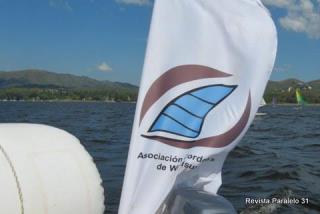 The Raceboard and Techno 293 South American Championships, hosted by Club Nautico Cordoba, takes place from 28th March to 1st April. The organization of this event is part of the celebrations for the 30th anniversary celebrations of the Windsurfing Club of Cordoba. Racing will take place on the waters of San Roque Lake, Cordoba, home to many of Argentina's top racers including olympian Mariano Reutemann.
Competitors will attend from many regions of Argentina including Mendoza and Buenos Aires. Entries are expected from Brazil, Uruguay and USA, plus a big team of young Techno racers from Peru.
Other raceboard competitors include, from Argentina: Marcelo "Chelo" Rodriguez Pons, 1990 Division II World Champion; Marcos Galvan, gold medal in the Pan-Americans of Winnipeg, Canada; Fernando Consorte, 2012 South American Champion.
The San Roque Lake is a reservoir (artificial lake) in the Cordoba region of Argentina. It was created by the damming of several rivers, especially the Suquia and theCosqua­n. It is located next to the city of Villa Carlos Paz, about 600 m above mean sea level. San Roque Lake was for some time, the biggest artificial lake in the world.
Images / Club website / NOTICE OF RACE
Check the Facebook page of the Cordoba Windsurfing Association, for all the news during the event.
---
Asociacion Argentina de Windsurf (AAW)
in co-operation with the
Asociacion Cordobesa de Windsurf (ACW)
and the
Federacion Argentina de Yachting (FAY)
An International Windsurfing event including . . .