---
Drama on day 3 of FW World Festival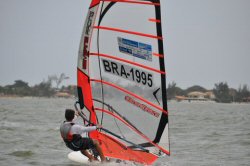 Plenty of action on day 3 of the Formula World Festival at Upwind Base 1, Praia Seca, Araruama. A further 4 races were completed in a wider range of wind conditions than encountered so far.[more]
In the FE fleet Nicolas Schreier (PER 2) appeared to be getting the better of local adversary, and overnight leader, Leonardo Rebello (BRA 121) with 3 first places in races 10, 11 & 12. However Nic was judged to be OCS in race 12 , which once again knocked him back into second place overall.
Race 12 brought further controversy when a serious collision at the start, and subsequent protest decision, brought about the disqualification of two Brasilian racers -BRA 121 and BRA 44- and saw redress given to the injured party, PER 111.
That was not the end of the drama - with the Jury having a big final part to play! A request for redress against the Race Committee was the last case to be heard. During race 12 a gate mark moved out of position, affecting the outcome of the race for many competitors, who then requested redress. It was decided that the race committee were at fault, though no blame was attached to them, and the jury had no option but to abandon the race, which will now be "resailed".
As a result Leonardo Rebello has a one point lead over Nicolas Schreier going into the final day!
There was also a first win for Fernando Bocciarelli (BRA 174) in race 9. First youth in the overall ranking is Santiago Canseco (PER 27) whose results are improving daily. First woman is Carolina Butrich (PER 22), and first junior (under 17) Leonardo Filho (BRA 114) on a tie break from Matias Canseco (PER 99). Unfortunately Matias will take no further part in the regatta due to injury .
In the Formula Youth fleet Gabriel Browne (BRA 50) confirmed the 2010 title with 3 first places. Second placed Jacek Piasecki was as consistent as ever, and though never far from the heels of "Biel" he will have to be content with the silver medal. Tomorrow's racing will decide the bronze medal position!
In the Formula Masters fleet there is still a close fight between Matthias Pinheiro (BRA 5) and Xavier Ferlet (GBR 451) - both having won 2 races today - leaving BRA5 slightly ahead in the rankings. However, barring a big mistake Massimo Masserini (ITA 7) appears to have the bronze medal in his hand.
Stay tuned tomorrow for the final episode in the 2010 world festival championship.
---
Rio - Brasilians in pole positions after 8 races